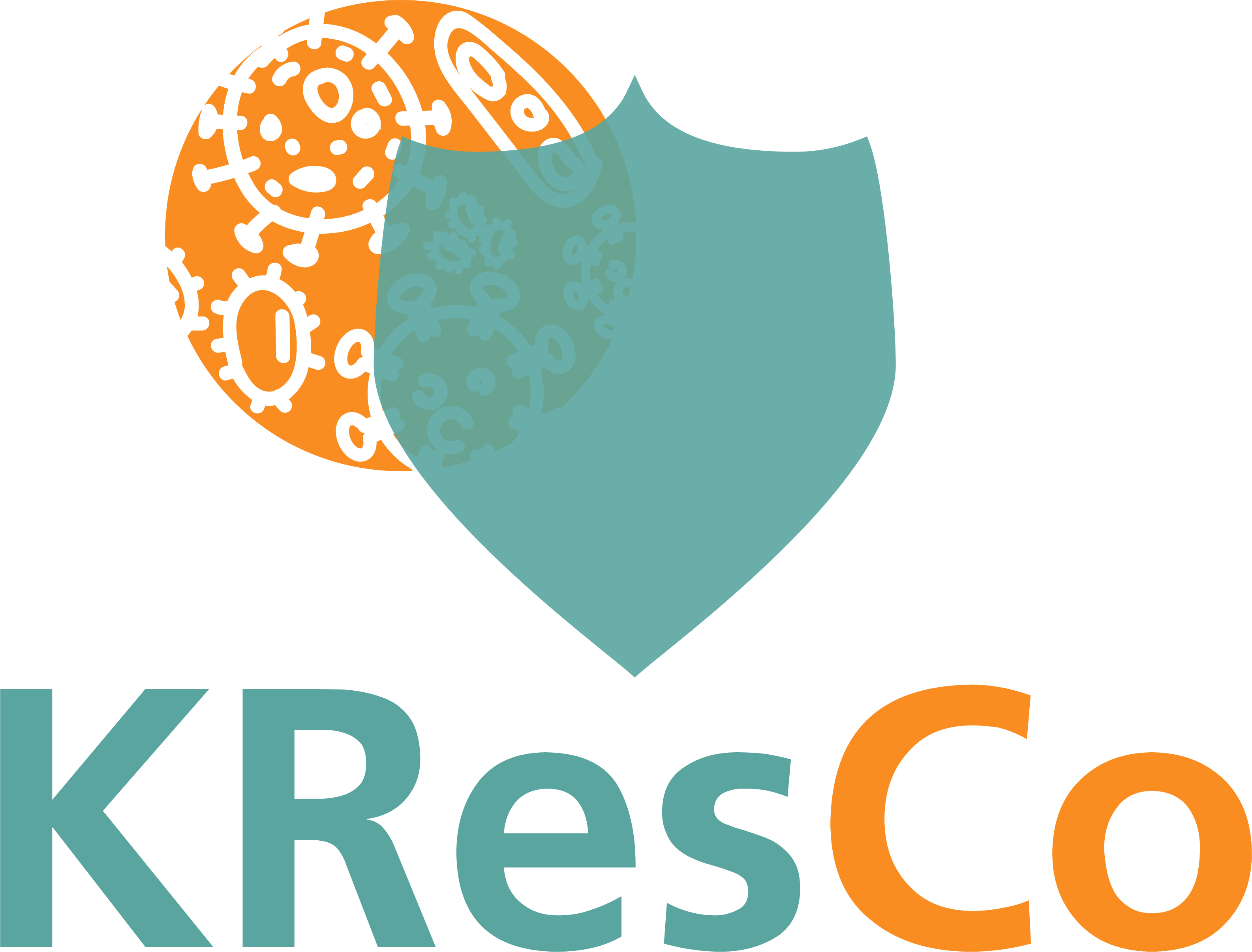 In December 2021, the consortium project "KResCo" (Crisis management and resilience – Corona) was concluded after a year of intensive research. The project, which was funded by the Anti-Coronavirus Program at the Fraunhofer-Gesellschaft, examined various areas of society, analyzed their practices and made recommendations for actions.
In close collaboration, five different Fraunhofer institutes identified recommendations for different societal sub-systems, to draw sustainable learnings from the Covid-19 pandemic and to improve society's resilience. These institutes cooperated in the work packages (WPs) and thus combined their expertise and methods for a non-technological, systematic and holistic view.
Research data management (WP2) was carried within the project, led by Fraunhofer IRB with the aim of deriving good practices and lessons for future research. It was a first time that the use of the concept of data governance was used within such a project — a system of rules and decision structures that can be used in research organizations to generate the best possible applications and quality of research data.
Fraunhofer ISI led the work packages "Political decisions for the containment of the Corona pandemic" (WP3) and "Economy and society" (WP4) creating a dataset from multiple European databases. This allowed the recording of various phenomena around the political measures with pandemic-related health, societal, economical and political consequences and further criteria (incidences, hospital capacity/utilization and many more) in a time period.
In work package "International innovation networks" (WP5), the Fraunhofer IMW investigated cross-border, bilateral cooperations and the consequences of the pandemic for research, development and innovation between German stakeholders and their partners in Israel, Sweden, Switzerland, South Korea and Thailand.
The work package "Civil protection and security" (WP6), led by Fraunhofer IAO, focused on the area of hazard prevention and civil protection in a series of Europe-wide interviews and through intensive research.
Fraunhofer ISI led the work package "Application-oriented research" (WP7), conducting a series of Europe-wide interviews and further methods to closely examine the organizations for applied research (particularly Research & Technology Organizations, RTOs).
Eventually, Fraunhofer INT collected the results and identified recommendations for action from the individual societal areas in the final work package (WP8). These results were then published for the identified target groups in the form of policy briefs for decision-makers in the fields of health policy, interior politics, research policy and organizations for applied research, civil protection and security, as well as research data management. The project also identified general recommendations that override the mentioned target groups or societal sub-systems. These focused on the following topics: Improvement of networking, the added value of systemic (not purely technological) and inter-disciplinary research and the improvement of the information bases and information exchange with better data.
The project was successfully concluded with a digital event (held online due to the pandemic) with 170 participants. The presentations and the results and the project work itself can be found on our project website: www.kresco.fraunhofer.de
For more information and for questions surrounding the project and the results, feel free to get in touch via: larissa.mueller@int.fraunhofer.de