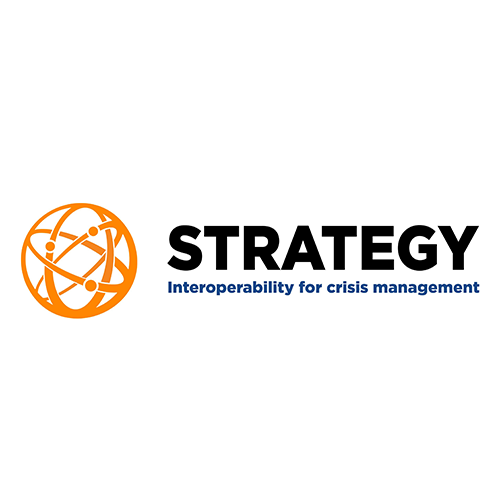 Managing crises for example caused by natural disasters, industrial accidents or terrorist attacks, requires the cooperation of a number of organizations, all of which generally have different structures, operational procedures, terms, concepts or technical tools. In addition, when crisis management extends beyond national borders, there are different regulatory frameworks to consider, along with language barriers. These differences hamper efficient cooperation during a crisis.
This is where the EU project »STRATEGY« (Facilitating EU pre-Standardization process Through stReamlining and vAlidating inTeroperability in systems and procedures involved in the crisis manaGement cYcle) comes into play: The aim of STRATEGY is to improve resilience in the EU to different types of disasters by strengthening the interoperability of systems and operational procedures in Pan-European crisis management. Standardization processes across Europe play a key role in this. For this reason, STRATEGY brings together 23 partners from 14 EU Member States – including companies, RTOs (such as Fraunhofer), user organizations (such as fire departments, rescue services, police) and national standardization bodies from five different countries – to build a Pan-European structure for pre-standardization activities. The project was launched in September 2020 and will run for a period of three years.
Based on previous analyses, including from EU projects such as ResiStand, in which Fraunhofer INT was also heavily involved, STRATEGY addresses eight topic fields: search and rescue, critical infrastructure protection, response planning, command and control, early warning, training, terminology, and – as a special hazard type – threats from CBRNe (chemical, biological, radiological, nuclear and high yield explosives). In doing so, initiatives of the European Defense Agency (EDA) in the field of CBRNe should also be supported.
Standards that already exist as well as those under development and potential new ones will be selected, tested, adjusted where necessary and then implemented. To that end, technical equipment, systems or processes that could be established as standard will be incorporated into use cases (i. e., in specific contexts in which they are to be used). The different planned standards will then be tested and evaluated in several simulated tabletop exercises as well as a full-scale exercise. Over the course of the project, the project partners will actively participate in all stages of a standardization process, from pre-normative activities through to specific standardization work.
Fraunhofer INT is collaborating on STRATEGY across departments. The Public Technology and Innovation Planning (TIP) business unit is heading up the project's largest work package in which scenarios, use cases, etc. will be defined and simulated tabletop exercises will be performed. In addition, TIP is coordinating work in the area of terminology, as well as political and organizational framework conditions, and is organizing the evaluation of potential standardization topics, final recommendations and a roadmap for future standards in crisis management. The Nuclear Security Policy and Detection Techniques (NSD) business unit is contributing its expertise in the field of radioactive and nuclear threats to activities with respect to the CBRNe threat type.